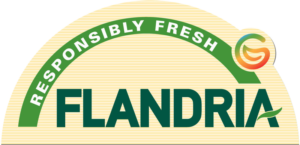 A quality label for fruits and vegetables
Flandria is the greatest Belgian quality label for fruits and vegetables. The label gives an added value to the fresh merchandise. It guarantees that the farming is done while respecting a set of regulations favorable to the environnement, quality certifications, hygiene, tast and of course the freshness of the harvest.
What's more, strict labelling indications enable us to know the origin of each delivered box.
Only products of superior quality with perfect taste are considered for the Flandria label.
One day after harvest you can already find the Flandria fruits and vegetables in the supermarket. The producer harvests his products in the morning and delivers it to the auction during the day. The merchandise is then stored in cold rooms until the selling process the following morning. After the auction, the goods are immediately loaded in refrigerated trucks and delivered to their selling points.
Flandria products are known for their rare taste and freshness. You can't find fresher!
Self-inspection system
In June 2011 Pacbelimex was granted the certificate AIB-VINCOTTE international general self-inspection. This certificate relates to the second version of the sectorial self-inspection guidebook: the " Guide to autocontrol: processing industry and market for potatoes, fruits and vegetables ".
These measures require us to be conform to the legal conditions set forth in the Royal Decree of 14 November 2013 on the subject of autocontrol, obligated notification and traceability in the food chain, all in agreement with the EC Regulations 178/2002.